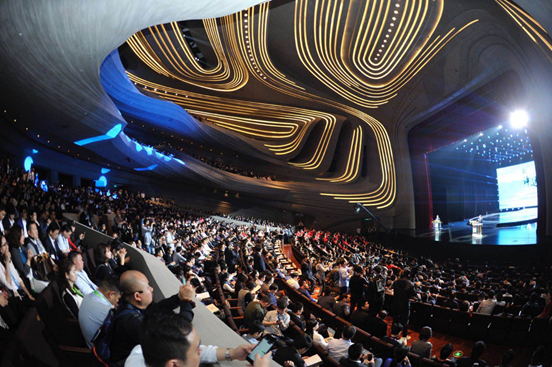 SINOCARE INC.'S COOPERATION WITH YUELU SUMMIT 2018 TO EXPLORE THE NEW ECOLOGY OF WIT120 AND BUILD A BETTER FUTURE
There is a popular saying in China's internet industry, that is, "there is Wuzhen in the east and Yuelu in the spring", indicating that Wuzhen has the World Internet Conference and there is the Internet Yuelu Summit in the spring. The original intention of the Internet Yuelu Summit is to invite Hunan internet entrepreneurs and other entrepreneurs to meet and exchange down the Yuelu Mountain in early April each year. So far, the summit has been successfully held for four times, becoming a mobile internet industry event and iconic brand.

OPENING CEREMONY OF YUELU SUMMIT 2018
On April 3, the Internet Yuelu Summit 2018 was held as scheduled. The theme of this summit was "the Thriving Intelligent Innovation". It was undertaken by Changsha National Hi-Tech Industry Development Zone and co-sponsored by the Propaganda Department of the Hunan Provincial Party Committee, Hunan Provincial Cyber Information Office, Hunan Economic and Information Commission, Hunan Xiangjiang New Area, Hunan Radio and Television Station and other units. Mobile internet giants gathered in Changsha to build an internet business platform and promote the in-depth integration of internet and industry. The special health event under the theme of "Smart Blueprint, Health Mission" hosted by Sinocare Inc. also kicked off under great expectations.
Multi-parties' cooperation to draw up a blueprint for WIT120
The report of the Party's Nineteenth Congress made a clear statement in the part of "Improving the level of protection and people's livelihood, strengthening and innovating social governance" that "Implementing a Healthy China Strategy" will be our country's key strategy. Based on the concept of "Comprehensive Health" and "the Party's health policy in the new era", the report has drawn a blueprint for health in the new era.

THE DEPUTY DIRECTOR OF HEALTH AND FAMILY PLANNING COMMISSION OF HUNAN PROVINCE WAS DELIVERING A SPEECH AT THE MEETING
As an important component of healthy China's construction, a series of new technologies and new equipment, such as big data, cloud computing, artificial intelligence, and mobile medical care, etc., are continuously being developed and produced, and health construction projects are highly valued. Long Kaichao, Deputy Director of Health and Family Planning Commission of Hunan Province, stressed that we need to take the spirit of the Nineteenth Congress as the development direction of this forum, show the evolution of government functions, and manage the grand blueprint of wisdom and medical care under the new era. Based on this comprehensive health, Sinocare Inc. aims to demonstrate the latest scientific and technological achievements in medical science. Through many discussions, we are committed to discovering the ways in which WIT120 technologies can be launched, and to jointly imagine the future of smart and healthy, and to help all-round well-to-do health with universal health.

A BRILLIANT TOPICAL SALON
Guests, including Professor Zhou Zhiguang, Secretary of Party Committee of the Second Xiangya Hospital of Central South University, Li Shaobo, Chairman of Sinocare Inc., Zhang Fan, Founder and Chairman of Ansun Angel, Liu Quan, Chairman of Zhixiang Health Technology (Beijing) Co., Ltd. and Founder of Zhimai Pharmacy Engine, Li Chengzhi, founder and CEO of Beijing Dnurse Technology Ltd., etc, participated in the thematic salon of comprehensive health. They initiated heated discussions with the theme of "Integration and Practice of Internet and Chronic Disease Management" to explore and build a new medical system and new ecology in the future.

LI SHAOBO, CHAIRMAN OF SINOCARE INC., WAS INTRODUCING WIT120 TO THE MEDIA
Among those many special events of the Yuelu Summit, the high-tech elements made the Comprehensive Health event unique. This not only enhanced the influence of the WIT120 Forum of Yuelu Summit in the industry, but also strengthened the image of the industry pioneer. In addition, it conveyed the concept of science and technology to create a better life, and create a smart industrial chain that links government authorities, manufacturing companies, medical organizations, and the people.
Sense of mission and technology boost the health industry
In the era of technological evolution, WIT120 has undergone multiple stages of development, and government functions are also evolving. But their original sources are remaining our initial aspiration and keep our mission firmly in mind to assist the people's health industry with science and technology and shoulder the mission of healthy China to make it go further. As a high-tech enterprise committed to the use of bio-sensing technology to research, develop, produce, and sell products for the rapid detection of chronic diseases, Sinocare Inc. continues to make efforts to improve Health China.

DU HUI, DIRECTOR OF PRODUCT AND BRAND DEVELOPMENT DEPARTMENT OF SINOCARE INC., WAS INTRODUCING "MINUTE CLINIC" TO MEDIA
In order to help pharmacies to better serve patients and manage chronic diseases well, Sinocare Inc. introduced mature models in the United States considering from the perspective of the tool providers to create a domestic "Minute Clinic" to enable patients to more closely monitor their diseases and obtain corresponding services. The service content of the eye-catching "Sinocare Minute Clinic" covers chronic disease multiple index detection system and detection of blood glucose, total cholesterol (TC), high density lipoprotein cholesterol (HDL-C), low density lipoprotein cholesterol (LDL-C), glycerin trimyristate (TG), BMI and blood uric acid value. It can quickly detect chronic disease indicators within minutes and help patients to analyze, evaluate, predict and educate, as well as provide data management and personalized solutions, etc.

PROFESSOR YANG WENYING WAS SHARING THE THEMATIC KNOWLEDGE ON METABOLIC DISEASES AND THE NATIONAL HEALTH
In this Comprehensive Health session, the leaders of disciplines pointed out that we need to combine theory and practice to develop the industry. Professor and postdoctoral tutor Yang Wenying, Director of Internal Medicine of China-Japan Friendship Hospital and the chief physician of Endocrine and Metabolic Disease Center of China-Japan Friendship Hospital, shared special knowledge on metabolic diseases and national health. As a well-known domestic endocrine expert, Professor Yang Wenying has a deep knowledge of diabetes. She is mainly engaged in the study of the incidence and factors of diabetes, metabolic syndrome and other diseases in China. Professor Yang enjoys special allowances from the State Council and has won many awards. She also serves as the honorary chairman of Chinese Diabetes Society and vice president of the Asian Diabetes Society.
Industry and corporate guests presented the latest achievements and development directions in the industry to the participants. Zeng Renxiong, Chairman and CEO of Honghua Capital Group Co., Ltd. and Honghua International Medical Holdings (Group) Co., Ltd., gave a keynote speech on "Innovative internet services for the health care and poverty alleviation for villages". Yuan Hong, the expert of the State Council Special Allowance, chief expert of National New Drug Creation Project and 973 Project, and Deputy President of the Third Xiangya Hospital of Central South University, shared his experience in blood pressure management in the era of mobile internet. Professor Yi Fayin, a famous Chinese medicine expert, Director of Library of Hunan University of Traditional Chinese Medicine, and Director of Jiuzhitang National Medical Museum, shared his experience of the Internet and TCM management.
The splendid presentations and speeches not only demonstrated the exploration and achievements of medical institutions, industries, and enterprises under the leadership of the government, but also presented the development plan of the industry and the company's future. Many representatives of the conference jointly explored the path of WIT120 development.
Popularizing "Medical + Public Benefits" with love
Benefiting people is the ingenuity of the medical industry, and so is WIT120. The seemingly cold scientific and technological means are seeking universal benefits for the people. In the "Reader" section of the Comprehensive Health special event, the employees of Sinocare Inc. performed the achievements of WIT120 in social welfare in the form of an affectionate reading, which became a highlight of the day.
The readers included children with diabetes mellitus type 1 from the Xiangya Kangle Camp and their family members, as well as "white angels", nurses from the Department of Endocrinology at the Second Xiangya Hospital of Central South University. Sinocare Inc. has co-organized the Xiangya Kangle Camp for many years and is dedicated to focusing on patients with diabetes mellitus type 1. Volunteers of Sinocare also came to the event. In addition to providing free Sinocare blood glucose meters for children with diabetes mellitus type 1, they also hoped to conduct standardized education and treatment for the children through charity activities such as Xiangya Kangle Camp to ensure that more children can grow healthily and happily. Thanks to the promotion of WIT120, these lovely children can be filled with hope and light like healthy children. The innocent children, white angels and volunteers of Sinocare read aloud I Have A Dream and everyone on the scene was deeply moved.

PROFESSOR ZHOU ZHIGUANG, A FAMOUS DOCTOR OF XIANGYA HOSPITAL, WAS SHARING HIS THOUGHTS OF THE COMPREHENSIVE MANAGEMENT OF DIABETES MELLITUS TYPE 1
"With the advancement of society and the improvement of medical care, diabetes mellitus type 1 has received more and more attention from society and medical workers, but it is still far from enough. Children's physical and mental health needs more attentions and help from all walks of life. Here, I hope that the community and companies are concerned about diabetes mellitus type 1 and the new journey of medical technology development and progress and love transmission should never stop!" When sharing the comprehensive management of diabetes mellitus type 1, Professor Zhou Zhiguang appealed.

SINOCARE DIABETES CHARITABLE FOUNDATION WAS DONATING TO XIANGYA KANGLE CAMP
WIT120 makes life beautiful and charity makes the world a better place. It is both an expectation and also a goal that we should use love to outline a beautiful blueprint for life to make happiness always be with us. This session of the Comprehensive Health ended accompanied by a warm donation ceremony. Sinocare Diabetes Charitable Foundation gave a donation to Xiangya Kangle Camp which gives care to diabetic people with diabetes mellitus type 1. The representatives of the participating companies, including Sinocare Inc., jointly offered their best wishes and hoped that the healthy public service, such as Kangle Camp, would become better and better. They hoped that "Medical + Charity" can receive more attention from people, and people from all walks of life, together with other participants, will join in these public welfare activities.